The cenotes in Tulum are perhaps the most famous of them all, but did you know that there are over 6,000 cenotes in the Yucatan Peninsula? That's pretty wild to think about!
What are cenotes, anyway?
It is said that the cenotes, which are essentially limestone sinkholes, were formed nearly 66 million years ago at the time of the Chicxulub crater impact (the same one that wiped out the dinosaurs).
Today the impact crater is buried underneath the Yucatan Peninsula.
On impact, its wave spread out across the Peninsula in a ring shape.
The cenotes are a magical, beautiful consequence of the impact that today can be explored, observed, and appreciated for their natural beauty.
Disclaimer: This post contains affiliate links that may earn me a small commission should you decide to click through and make a valid purchase (at no extra cost to you). Thanks so much for your support!
What's more, cenotes are sacred in Mayan culture.
They are often revered as "entrances to the underworld" and have been places of great religious and ceremonial practice. As such, it's common to find bones, treasures, and other relics of the Mayas sleeping at the bottom of many deep cenotes.
There are three types of cenotes in Tulum and across the Yucatan Peninsula to see:
closed cave cenotes (underground or flooded caverns),
semi-open cenotes (half cave, half open-air),
and fully open-air cenotes that resemble small lagoons, ponds, or natural pools.
This detailed guide covers all three types of cenotes in and around Tulum that you shouldn't miss out on.
In it, you'll find my recommendations for the best cenotes in Tulum, including the most Instagrammable cenotes, family-friendly cenotes, and the coolest cenotes for diving and snorkeling.
Here's the ultimate Tulum cenote bucket list!!
25 Incredible Cenotes in & Around Tulum
What to Know Before You Jump in a Tulum Cenote!
❌ DON'T USE SUNSCREEN, EVEN IF IT'S BIODEGRADABLE
The cenotes in Tulum have a fragile ecosystem that is easily disturbed when we enter with our chemical-packed sunscreens, lotions, deodorants, makeup, etc.
You may think, "just once won't hurt" but unfortunately, thousands of people thinking the same is, in fact, very detrimental to the local environment!
Even though you can't use any sunscreen for the cenotes, you should still pack a biodegradable, reef-friendly sunscreen for swimming in the sea.
🚿 SHOWER FIRST
Most cenotes have an on-site outdoor shower that you should absolutely use to rinse off any remaining lotions, makeup, or sunscreen from your day. Some cenotes will even enforce it.
If they don't, be an eco-friendly traveler and make sure to ask for the shower if it's not already obvious where it is.
🌿 MARINE LIFE
With a bit of luck, you'll probably get to see quite a bit of marine life in the cenotes. Yes, there are turtles! Even baby crocodiles!
And plenty of small fish who enjoy giving you a gentle foot pedicure. Always refrain from disturbing or touching marine or wildlife in Mexico.
Best Tulum Cenote Tours
Cenotes in Tulum for Swimming, Snorkeling, & Diving
1. Cenote Dos Ojos
Price: $350 MXN, cash
Directions: Cenote Jaguar Rd (14 miles outside of Tulum toward PDC)
Hours: 9-5 PM
Camera Fee: $100 MXN
Facilities: Bathrooms, on-site restaurant, snorkel equipment rentals ($250 MXN)
Features: Semi-open caves, swimming holes, bats
Cenote Dos Ojos is perhaps one of the top cenotes in Tulum and for good reason!
"Dos Ojos", meaning Two Eyes, refers to the two neighboring cenotes that both flow with an enormous subterranean river – one of the longest cave systems (Sac Atun) in the world at ~193 miles (310 km).
The experience of Cenote Dos Ojos is a must if you come to Tulum. If you want to dive at Dos Ojos, you can do Barbie Line or the Bat Line circuit. It's my understanding that you need to pay a guide for the Bat line, even if you want to snorkel.
Recommended gear: Don't forget a dive/snorkel mask (I linked the blue one I have by Beuchat) and a waterproof phone case or an underwater action cam (I use the DJI Osmo Action).
The most popular cenotes will likely charge you a $100-200 camera fee, whether that's a drone, GoPro, or professional camera. Not always, though. In any case, it's FREE to take pictures with your phone.
Tours: Click to see available tour options for Cenote Dos Ojos
2. Gran Cenote
Price: $180 MXN or $10 USD, cash
Directions: just off Q.R. Hwy 109 toward Coba (4 miles from Tulum Centro)
Hours: 8-4:45 PM (last entry is at 4:15)
Camera Fee: Unknown
Facilities: Toilets, lockers ($50 MXN), restaurant, snorkel equipment rentals
Features: Bats, cave, wooden decks/stairs, jungle, garden
Gran Cenote is the most Instagrammable cenote in Tulum thanks to its beautiful semi-open cave, soft turquoise water, and jungly atmosphere. There are essentially two "pools" inside Gran Cenote, a larger and a smaller one. Crowds form quickly here so, if you can, go as early as possible! You used to be able to dive here, but I think due to the increase in tourism, you no longer can. You can still visit and arrange a snorkeling tour, though!
3. Cenote Calavera (Temple of Doom)
Price: $250 MXN, cash
Directions: Q.R. Hwy 109 toward Coba (4 miles from Tulum Centro)
Hours: 9-5 PM
Camera Fee: $200 MXN
Facilities: Toilets, showers, hammocks, chairs
Features: Cave, jumping holes, rock, jungle, bats
Cenote Calavera is a fun, skull-shaped cenote with one big hole and two smaller holes that make it look like a skull head (hence the name). It also commonly known as the Temple of Doom cenote. At first, it looks just like a big swimming hole to jump in but there is much more to explore below the surface.
I think this is one of my favorite cenotes just for the fun of jumping into the smaller holes. It seems scary at first (and you need to be careful), but you'll love the shot of adrenaline as you fall through the hole and into the water below. You can get in and out of the main hole in Cenote Calavera via the big ladder. There are also see plenty of bats flying around or nesting in the cave and little black fish to see!
Tip: If you want to dive inside the caverns of Cenote Calavera, you'll get to see neat cave formations and the cloudy halocline layer. For advanced divers only. Max depth: ~50 ft (16 m)
4. Cenote Cristal
Price: $70 MXN | $120 for both Cenotes Cristal y Escondido
Directions: Cancun – Chetumal 307 (4 miles south of Tulum Centro)
Hours: 9-5 PM
Camera Fee: No
Features: Toilets, outdoor shower, picnic tables,
Features: Jumping deck, turtles, jungle, oasis
Cenote Cristal (sometimes referred to as Cenote Naharon), is a calm open-air cenote hidden in the jungle just south of downtown. It is one of my favorite cenotes in Tulum because of it's jungly, oasis-inspired setting that features a 12 ft wooden deck you can jump off into the "crystal" clear water. It is also one of the rare cenotes in Tulum that don't get overly crowded during the day. Still, if you go in the morning, you'll have it all to yourself for a while!
I have been to Cristal on several occasions, and each time is just as fun as the last. You can easily spend a couple of hours here with friends or family. The water is fairly deep but remains one of the better cenotes in Tulum for parents with children. Like many cenotes, it has a safety rope across it for people to rest on while wading in the water.
There are a few picnic tables and plenty of places to explore or hang out around the circular cenote. If you bring a scuba mask, you can see the bottom extremely well. This cenote also is home to several fish and even a few turtles.
If you visit Cenote Cristal, you must combine it with a visit to Cenote Escondido – it's neighbor just across the street!
5. Cenote Escondido
Price: $70 MXN | $120 for both Cristal y Escondido | $200 for divers
Directions: Cancun – Chetumal 307 (4 miles south of Tulum Centro)
Hours: 9-5 PM
Camera Fee: No
Facilities: Toilets, shower, picnic tables, deck
Features: Swinging rope, flooded caverns, diving, jungle, oasis
Cenote Escondido also lies hidden in the jungle south of Tulum Centro. Whereas Cenote Cristal is circular in shape, Escondido is longer and slimmer. The first portion of the cenote you'll reach features a rocky overhang with a swinging rope attached to a tree branch overhanging the rocky ledge. At the far end of the cenote is more pool-like with a larger dock to sit on and stick your feet in the water.
The water in Cenote Escondido is also crystal clear and I'd argue even more beautiful than Cristal in terms of light reflections shining off the rocks in the water when the sun is shining. This cenote is also popular among advanced cave divers.
How to get there: It is located just opposite the highway from Cenote Cristal. There is no signage, but it is fairly easy to find if you cross straight over. Once you do, follow the rocky dirt path into the jungle for about 0.5 – 1 mile. You'll soon reach the parking lot.
6. Casa Cenote (Cenote Manatee)
Price: $150 MXN
Directions: Carr. Tulum – Cancun 307 (7 miles north of Tulum Centro)
Hours: 9-5 PM
Camera Fee: $100
Facilities: Parking, restaurant, toilets, dive shop
Features: Caribbean sea, mangroves, marine life, salt/freshwater mix, crocodile
Casa Cenote, sometimes known as Casa Manatee because of the manatees that used to swim in here from the sea, is a beautiful open-air cenote just 10-15 minutes outside of Tulum. It is a unique cenote in that it carves out the mangroves in the jungle and is full of marine life. I think it's one of the most seriously underrated cenotes near Tulum. Casa Cenote is most popular among the dive community since dive shops use this cenote as a training site. You can still experience Casa Cenote on your own, though, via snorkeling, swimming, or kayaking! I went diving here twice and highly recommend it on a sunny day.
Just watch out for Pancho the friendly crocodile. No, seriously! Pancho the crocodile is diver and swimmer-friendly. He is about 2 years old and about 4-5 ft in size. In this cenote, you can see both freshwater and saltwater life, fish, algae gardens, barracudas, crabs, and more.
What's cool about Casa Cenote, other than the marine life and Pancho the croc, is that you can literally take ten steps and cross to the other side of the sandy road and swim in the Caribbean sea.
RELATED: Diving in Casa Cenote with Pancho the Crocodile
Tours: Book your Discovery Dive in Casa Cenote with La Calypso Dive Center. Better yet, ask me about my private diving instructor David for an extra special diving experience! Max diving depth: 20-25 ft (6-8 m).
7. Cenote Carwash
Price: $100 MXN ($50 for locals)
Directions: just off Hwy QROO 109 (5.5 miles west of Tulum Centro toward Coba)
Hours: 9-5 PM
Camera Fee: $100
Facilities: Parking, restaurant, toilets, lockers ($30 MXN)
Features: Underwater garden, marine life, lagoon, diving, jumping deck
Cenote Carwash, on the surface, looks like a large lagoon or pond. But dip your face below the surface and you'll be greeted with a beautiful underwater garden scene. There are lots of lily pads, aquatic life, rock formations, and fallen trees which together make for a stunning cenote dive or snorkel sesh. The max diving depth is 45 ft (15 m).
Funnily enough, Cenote Carwash actually got its name because of an old carwash that used to be located beside the road here. In terms of popularity, you'll find a smaller crowd at this cenote compared to the "Instagrammable" cenotes. Its cheap entry fee is also attractive for those on a budget.
8. Cenote El Pit
Price: $20 USD for divers
Directions: off Hwy 307 (on the left inside Dos Ojos Natural Park, 15.5 miles from Tulum Centro)
Hours: 8-5 PM
Camera Fee: Free for GoPros, $300 MXN for professional cameras with housing
Facilities: Parking, toilets, dive tables, stairs
Features: Diving, underwater chamber, halocline cloud, fallen trees, jungle
Cenote El Pit is one of the more popular cenotes in Tulum for Advanced Open Water divers. It features a small and unassuming surface entrance yet it is one of the deepest cenotes in all of the Yucatan Peninsula. Divers love El Pit because of the gorgeous light rays that create beautiful beams in the deep, teal-blue water. Not to mention, at 30 m deep (98 ft) you can swim through the insane hydrogen sulfide cloud! You won't find El Pit to be very exciting unless you are a diver. Cenote El Pit's true treasure lies beneath the surface!
Have your AOW and want to experience El Pit? Book your 2-dive tour in Cenote El Pit + Dos Ojos with La Calypso Diver Center.
9. Cenote Angelita
Cenote Angelita with the halocline | Photo credit: Infinity2Diving
Price: $100 MXN swimming | $300 MXN diving
Directions: Cancun – Chetumal 307 (9.7 miles south of Tulum Centro) past Laguna Kaan Luum
Hours: 8-5 PM
Camera Fee: Unknown
Facilities: Parking, restaurant, toilets
Features: Halocline, vegetation, jungle, cavern, fallen dead trees, underwater forest
Cenote Angelita is a favorite cenote for advanced divers in Tulum because it features a spookish thick cloud of hydrogen sulfide gas created by decaying trees and vegetation that gathers in the layer of the cenote where fresh and saltwater meet (aka the halocline).
You can come here and swim as well for a quiet and peaceful cenote experience in Tulum.
10. Cenote Dream Gate
Cenote Dream Gate | Photo credit: Agua Clara Diving
Price: $100 MXN swimming | $300 MXN diving
Directions: Cancun – Chetumal 307 (inside Dos Ojos Park)
Hours: 9-5 PM
Camera Fee: $100
Facilities: Parking, restrooms, tables
Features: Jungle, wooden platform, caves, stalactites, stalagmites
Cenote Dream Gate is an underrated cenote in Tulum that's not well known. It is located inside the Park Dos Ojos and forms part of the subterranean Sac Actun cave system. To see here are stalactites, stalagmites, and insanely clear water. Although you can come and explore Dreamgate on the surface, once again, diving here is the highlight (suitable for those with their PADI Open Water certification). It is said to be one of the best cenotes for diving in Tulum and was even featured in BBC's documentary "Planet Earth"!
11. Cenote Nicte-Ha
Price: $100 MXN
Directions: Cancun – Chetumal 307 (before you reach Dos Ojos cenote)
Hours: 9-4 PM
Camera Fee: No
Facilities: Parking, rustic toilets
Features: Crystal clear water, lilypads, rocks, jungle, small wooden dock
Cenote Nicte-Ha (or Nic Te Ha) is a hidden gem of all the Tulum cenotes because it is on the less popular side (meaning, you'll likely have it all to yourself!). This cenote is located inside the Dos Ojos park and is only 15-20 minutes from Tulum Centro.
The highlights of Cenote Nicte-Ha are its tranquil, jungly atmosphere combined with the captivating turquoise-blue water. If you have your Open Water you can also do a sweet garden dive and a cavern line dive.
Pro Tip: If you're looking to escape the crowds of Tulum's more popular cenotes, head to Nicte-Ha!
12. Cenote Zacil-Ha
Price: $100 general | $80 locals | $50 Q.R. residents
Directions: Hwy 109, Coba Km 8 (next to Cenote Carwash)
Hours: 10 – 5:30 PM
Camera Fee: Unknown
Facilities: Parking, restrooms, showers, restaurant, pool, cabanas, gift shop
Features: Zipline, rocks, shallow and turquoise clear water
Cenote Zacil-Ha (sometimes called Zazil-Ha) is perhaps the most family-friendly cenote in Tulum because the water here is shallow and enclosed within rocks. But it is such an attractive cenote that many people come here from all ages.
It is also one of the most developed of the Tulum cenotes with lounge chairs, and an on-site gift shop where you can buy phone pouches, souvenirs, and more. There is also a restaurant to buy food, a pool, and even cabanas that you can rent out.
As I said, it's one of the most developed of all the cenotes so it's far from my favorite. However, it's an exciting introduction to the Tulum cenotes for children. If you're like me and prefer to explore cenotes in the jungle, then you'll appreciate cenotes like Cristal y Escondido, Nicte-Ha, and Manatee much more.
Best Cenote Tours in Tulum
If you don't want to visit the cenotes on your own, you can book a half-day or all-day tour and go with a group (usually operated by a dive shop in Tulum). Typically, these types of tours will choose between 1-3 cenotes or combine the cenote tour with a quick trip to see the Tulum Ruins (or another Tulum attraction).
Here are a couple of the best cenote tours I found that offer great deals and a unique experience.
Three Ecosystems Snorkeling Tour: This cenote tour is organized by Agua Clara Diving, a reputable dive shop in Tulum. You'll start your day by hopping on a boat and snorkeling in the Caribbean over the Tulum reef and right in front of the Tulum Ruins. Then, you'll snorkel in Casa Cenote and get a chance to see Pancho the croc and a bunch of marine life! Lastly, this tour finishes the day in the Sac Actun cenotes where you'll get to experience snorkeling in the longest underground rivers in the world. Ready for adventure? Book here!
Cenote Adventure Tour in Tulum: If you want to see 3 awesome cenotes then this tour by Adventure Tour Center is where it's at! You'll get to see a mix of open-air and cave cenotes, including Casa Cenote, Gran Cenote, and Cenote Calavera. The tour also says it goes to Cenote Cristal (Naharon), but I'm not sure if they've swapped that one out for Calavera or not. Book here!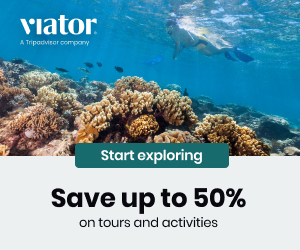 Other Cool Cenotes Near Tulum Worth Discovering
Unlike many other travel blogs, I don't consider the Coba or Valladolid cenotes to be in Tulum because, well, they're not! These cenotes are at least 45 minutes to 1h 30 minutes outside of Tulum. The thing is, though, since many people combine trips to Coba ruins, Valladolid, and Playa del Carmen as day trips from Tulum, they often group those cenotes as being "in" Tulum. But I think it's good that you know these are in other towns across Quintana Roo and even in the state of Yucatan.
Coba Cenotes
There are three awesome cenotes to see nearby the Coba ruins:
Multum-Ha
Choo-Ha
Tankach-Ha
These cenotes are underground cave cenotes. You reach them by scaling down winding stone stones or via a rickety wooden platform that goes underground. You can visit all three or just one – in any case, they're all pretty similar to each other! There are lots of stalactites and stalagmites to see, as well as bats and fish. Beware – the water is much cooler than the cenotes in Tulum that are mostly open-air and warmed by the sun!
How to get there: Coba ruins are located around 50 minutes outside of Tulum on Hwy 109 toward Coba. The cenotes are just around the corner from the ruins, about a 5-10 minute drive down a series of dirt roads. The easiest way to get there is with your rental car. Check below for the details and directions of each of the Coba cenotes.
RELATED: The Ultimate Guide to Coba Ruins & Cenotes
13. Cenote Multum-Ha
Price: $100 MXN
Directions: Carretera Principal Km 6, Cobá (1 hour from Tulum Centro)
Hours: 8-6 PM
Camera Fee: No
Facilities: Showers, parking, toilets, life jackets, changing rooms
Features: Stalactites, stalagmites, cave, clear water, dock, stairs
Cenote Multum-Ha was actually the first underground closed cenote that we visited near Tulum. It's seriously cool and leaves you with quite the first impression! You first need to rinse off in cold water at the showers, then take a life jacket (included in the price) before climbing down a number of stairs to reach the crystal clear water below 60 ft below the ground (18 m).
Once you enter through the small archway you'll step out onto a wooden dock that gives way to the vast cave. The artificial light fixed to the cave ceiling allows you to see the bats and ripples in the cave walls. The water is fairly chilly but extremely clear and inviting!
Pro Tip: You can take with you all your belongings and put them in a corner on the wooden dock (towel, underwater camera, etc).
14. Cenote Choo-Ha
Price: $100 MXN
Directions: Chanchen 1, Cobá
Hours: 9-6 PM
Camera Fee: No
Facilities: Showers, parking, restrooms
Features: Stalactites, stalagmites, cave, clear water, dock, stairs
Cenote Choo-Ha has even more stalactites than Multum-Ha, and is also a bit smaller and isn't as deep. However, it's still worth it! This cenote is shallow and great for kids, so come prepared with snorkel masks! Choo-Ha is located on the same road that you take to reach Tankach-Ha, so visiting both is recommended.
15. Cenote Tankach-Ha
Price: $100 MXN
Directions: GPS location (down the dirt road past Choo-Ha)
Hours: 8-6 PM
Camera Fee: No
Facilities: Showers, parking, restrooms
Features: Stalactites, stalagmites, cave, clear water, dock, stairs
Cenote Tankach-Ha is the big sister of Choo-Ha, but with a bit more pizazz. Instead of straight stairs leading to the entrance, Tankach-Ha has a zig-zag wooden staircase that takes you down to the water. That means you have a much better "aerial view" of the cenote compared to Choo-Ha or even Multun-Ha cenotes. Tankach-Ha is also a deep cenote ranging from 15 to 115 ft in depth. After all, its name in the Mayan language means "deep water."
Summary: The Coba cenotes are all similar but each has its own unique identity and vibe. Doing all three is recommended to get an overview of all of the cave types of cenotes near Tulum, but if you don't have the time or budget just 1-2 will still do the trick!
Valladolid Cenotes
Driving through the cute colonial streets of Valladolid
The cenotes in Valladolid are often referred to as being in Tulum, but that's simply not correct! It's good to know to reach the popular Instagram-worthy cenote of Cenote Suytun, for example, is located 1.5-hours outside of Tulum.
In fact, the cenotes in Valladolid are not even in the same state of Mexico as the cenotes in Tulum. While the Tulum cenotes are in Quintana Roo, you'll find the cenotes in Valladolid in the state of Yucatan.
Anyway, if you are wanting to expand your cenote discoveries beyond Tulum or even Coba, then definitely take a day trip from Tulum to splash in the cenotes in Valladolid. There are at least a dozen cenotes you could find near here, but for the sake of this article, I'll mention the most popular and my favorites!
16. Cenote Zaci
Price: $30 MXN
Directions: Calle Sta Ana, Valladolid, Yucatan, Mexico
Hours: 9-5:30 PM
Camera Fee: No
Facilities: Parking, toilets, nearby restaurants
Features: Half-open, half-cave, swimming, high jumping ledge, jungle, waterfall
Cenote Zaci is my FAVORITE cenote. It makes me feel like I'm in a Jurassic World film for some reason thanks to its half-open, half-closed jungly setting.
It has a sweet (man-made) waterfall falling down into the cenote from above so it gives off this lovely, lush jungle atmosphere. Plus, it has a large and clear swimming area and has a high cliff you can jump off into the deep and saturated-blue water below. I think it's the highest ledge I've ever jumped from!
Seeing as this jungly cenote is only a few minutes walk from downtown Valladolid, it is really convenient but not at all crowded or expensive to visit.
17. Cenote Suytun
Price: $120 MXN
Directions: Carretera Ticuch Km 8 S/n, 97780 Valladolid
Hours: 9-5 PM | 11-4 PM on Fridays
Camera Fee: No
Facilities: Parking, life jackets, restaurant, toilets
Features: Cave, light beam, fish, standing platform, stalactites
Cenote Suytun is undeniably beautiful, but it's extremely touristy with people and photographers flocking to capture the light beam at the right time of the day when it shines down and illuminates the standing platform that juts out into the tranquil, teal water.
I don't think Cenote Suytun is worth the effort if you are wanting to swim or snorkel. It's one of the most popular Instagrammable cenotes for obvious reasons, but not ideal for activities or spending a few hours to hang out with friends or family. Most people come in, take a few pictures, and get out!
Pro Tip: There is also Suytun's little sister cenote that your entry ticket allows access to. Most people don't make use of it or don't know about it, so make sure to go check it out!
Beat the crowds and buy your tickets online in advance. Book online with Tripadvisor ($7 USD) and get access to the two cenotes inside Suytun Ranch.
18. Cenote Ik'Kil
Price: $80 MXN
Directions: Cenote Ik Kil via 180 E Carr. Costera del Merida-Valladolid
Hours: 9-5 PM
Camera Fee: No
Facilities: Parking, store, restaurants, toilets, changing rooms, hammocks, lounge chairs
Features: Pro cliff jumping, waterfalls, jumping ledge, big swimming hole, cavern
Cenote Ik'Kil is THE most iconic cenote outside of Tulum – perhaps in the entire Yucatan Peninsula or even in Mexico! This cenote is where Red Bull hosted its Cliff Diving World Series in 2010, 2011, and 2014. It has since exploded in popularity, but mostly because it's a frequent stop on many Chichen Itza group tours. The archaeological site sits only 10 minutes away. That said, it's one of the most insanely crowded cenotes I've ever been to, surpassing all the cenotes in Tulum which are already known to get packed. If you come to Ik Kil, you absolutely have to come as soon as it opens. Otherwise, you'll be swimming in paradise next to hundreds of people.
If you still want to visit Ik Kil, you might as well combine it with a visit to Chichen Itza since they're so close! Know that you can definitely tour on your own, though.
19. Cenote Oxman (San Lorenzo Oxman)
Price: $80-150 MXN (3 options)
Directions: Calle 54, QROO 109 and Chemax – Coba, Valladolid
Hours: 9-6 PM
Camera Fee: No
Facilities: Parking, restaurant, toilets, changing rooms, Hacienda San Lorenzo
Features: Swing rope, vines, plants, cave
Cenote Oxman has been on the rise for quite some time as the off-the-beaten-track cenote to visit in the Peninsula, but not so much anymore. Its popularity is quickly catching up to its natural beauty. This cenote is simply gorgeous, with hanging vines, swing rope, and beautiful lighting coming in from the large opening in the cave ceiling.
Getting to Cenote Oxman from Valladolid is fairly easy and only takes about 15 minutes drive, so if you're in the area don't miss out on this cenote. Keep in mind, though, that there are others who will be thinking the same as you. It's better if go to Oxman early in the morning rather than later.
Also, about the entry fees, there are options to choose from that range between $80-150 MXN pesos. The higher-tiered fees give you more credit for the on-site restaurant, which is pretty nice.
20. Cenote Samula & Xkeken (Cenotes Dzitnup)
Price: $80 MXN per cenote, or $125 MXN for both
Directions: Cenotes Dzitnup via QROO 109 and Chemax – Coba
Hours: 8-7 PM
Camera Fee: No
Facilities: Parking, changing rooms, toilets, lockers
Features: Caves, light beam, bats, stalactites, fish
Cenote Samula and Cenote Xkeken, otherwise called the Cenotes Dzitnup because of the nearby village with the same name, are a couple of underground cenotes south of Valladolid. These are not as common on the tourist trail as the other Valladolid cenotes, so you have the chance to see these places without a crowd.
These are fabulous alternative cenotes if you still want to experience seeing light rays shine through the ceiling of the cave similar to that of Cenote Suytun. Samula is a bit shallower and is nice for snorkeling while Xkeken is darker with high ceilings (and the opening in the cave ceiling), and the chance to see lots of bats flying around the droopy stalactites.
Pro Tip: You will need separate tickets for both. You can either buy single cenote tickets for $80 pesos or combine the two for a little discount ($125 pesos).
21. Cenote X'Canche (Ek Balam Cenote)
Price: $120 MXN | $200 MXN with zipline
Directions: Cenote Xcanche via QROO 109 and Carr. Ekbalaam
Hours: 9-5 PM
Camera Fee: No
Facilities: Parking, restaurant, toilets, lockers, changing rooms, hammocks
Features: Wooden boardwalk, zipline, jungle, roots, rappelling, nearby Mayan ruins
Cenote X'Canche, often referred to as the Ek Balam Cenote because of its location beside the Ek Balam ruins, is a beautiful and jungly open-air cenote 30 minutes north of Valladolid (1h 45 m from Tulum, though). If you are planning on exploring the underrated Ek Balam ruins, then you might as well pay the $5 bucks USD extra to splash around in this cenote as it's not as crowded as many o the other cenotes in Yucatan. You can pay a little bit extra to do the zipline, but you might have to negotiate a price. I also read that you can rappel down into the cenote from atop the cave!
Reserve your Ek Balam ruins + cenote tour in advance here. Book on Viator | Book on Tripadvisor
Summary: The above cenotes in Valladolid are the best in my opinion (and the closest), but there are certainly more to discover. If you don't have that much time in Tulum to visit the cenotes this far out, then you might be better off sticking closer to the coast. Instead, you can tour some of the popular cenotes near Tulum in Playa del Carmen.
Playa del Carmen Cenotes
22. Cenote Jardin el Eden
Price: $200 MXN for adults, $100 for kids
Directions: off the main highway, click here for Maps directions
Hours: 9-5 PM
Camera Fee: No
Facilities: Parking, restaurant, toilets, life jacket rentals, snorkel equipment
Features: Plants, jungle, garden, swimming, snorkeling, diving
Cenote Jardin del Eden is so beautiful they named it after the Garden of Eden (it appears as Cenote Ponderosa on Google Maps). Cenote Eden has gorgeous moss-covered rocks, fish, jungly plants, and simply looks like a beautiful oasis hidden in the Mexican jungle. There are several wooden stairways leading down into the vivid blue-green water.
You can visit this cenote near Tulum on a day trip from either Tulum or Playa as it's only a 20-25 minute drive away. In fact, you should consider doing a Playa del Carmen cenotes DIY tour and knock off the 3 cenotes that are all nearby each other. They include Jarden del Eden, Cenote Azul, and Cristalino (more about those cenotes below).
23. Cenote Azul
Price: $120 MXN adults, kids $80
Directions: off the Highway 307 Chetumal-Cancun, click here for exact location
Hours: 8:30-5:30 PM
Camera Fee: No
Facilities: Parking, restaurant, toilets, changing rooms, tables, wooden dock
Features: Pedicure fish, jumping ledge, blue-green water, jungle, plants
Cenote Azul is an alluring cenote near Tulum just south of Playa del Carmen. It is one of the first open-air cenotes I ever went to and I was mesmerized by its vivid shades of deep green and bright blue! This place is an especially family-friendly cenote near Tulum but one that is popular among all ages.
You can jump off the small cliff into the water or descend any of the wooden staircases and gently immerse yourself into the jungly natural pool. There isn't much parking from what I remember at Cenote Azul, and it gets quite busy mid-day.
Pro Tip: It's best to do your DIY cenote tours either the first hour after the cenote opens or the hour before it closes.
24. Cenote Chaak Tun
Price: $500 MXN
Hours: 9-3 PM
Camera Fee: No
Facilities: Parking, tours, toilets, wetsuit gear, snorkel equipment, headlamps
Features: Fossils, stalactites, stalagmites, cavern, clear water, rich geological formations
Cenote Chaak Tun is praised as being one of the most photogenic cenotes in Playa del Carmen (1hr 15m from Tulum), thanks to its myriad of geological formations, low-lit caverns, and crystal clear water. As you can see by the price, this cenote is not cheap and should be visited with serious intent. However, it is well worth the price to see the slick cavern walls, million-year-old fossilized corals and marine life, stalactites and stalagmites, and dark, hidden corners – all from the illuminating beam from your headlamp!
Book your 2-3 hour Chaak Tun tour on Viator! Tour prices include all fees: wetsuits, water shoes, flashlights, lockers, snorkel gear, and life jacket.
25. Cenote Cristalino
Price: $150 MXN
Directions: right before Cenote Jardin del Eden & Cenote Azul (directions from Tulum)
Hours: 8-6 PM
Camera Fee: No
Facilities: Parking, toilets, snack shop
Features: Jumping ledge, pedicure fish, jungle, rock formations, boardwalk
Cenote Cristalino is very similar to Cenote Azul and Cenote Jardin del Eden and while keeping all the natural beauty and perks. Come here to swim, snorkel, or just relax with your feet in the water as the pedicure fish come to clean your skin!
Cenotes Tulum FAQs
Are the cenotes far from Tulum?
Some of the cenotes around Tulum are actually quite far from the center (Tulum Pueblo). Even further if you are referring to the Hotel Zone of Tulum as "Tulum". There is only one open-air cenote I'm aware of in the Tulum Hotel Zone, on the far end of the road, and it's not really that great.
How many cenotes are in Tulum?
That we know of? Haha, I am not sure how many cenotes exactly, but there are at least a dozen in Tulum and a few dozen more nearby in the towns of Coba, Playa del Carmen, and Valladolid.
What do the cenotes cost in Tulum?
The price of the cenotes in Tulum range from $70 pesos up to $350 pesos, with the average being somewhere around $100-150 pesos per person.
Most cenotes only pay in cash. It's wise to bring smaller bills for the more local cenotes just in case.
How to get to the cenotes?
The cenotes in Tulum (and throughout Quintana Roo and Yucatan) are best reached by private car. Sometimes you can reach the cenotes by walking or by bicycle, especially for the cenotes closest to Tulum.
Other modes of transport include cheap colectivos or minivans. Taxis will always cost you a fortune if you're a gringo asking to go to a popular cenote in Tulum.
What to wear in the Tulum cenotes?
You will have a much better experience in the Tulum cenotes if you wear appropriate clothing! Many cenotes have slippery stairs and rocks so you should wear supportive sandals or even wet shoes for stepping on rocks in the water.
Other than that, pack a comfy swimsuit, plus any gear you want to have with you (underwater camera, quick-dry towel, snorkel/dive mask, fins, etc,).
Responsible Travel Tips for Splashing in the Cenotes Near Tulum
Rinse off: Shower before entering the cenotes and refrain from using any sunscreen or creams.
Marine life: Avoid touching or disturbing wildlife or marine life in the cenotes.
No littering: Pack out all trash you pack in!
Don't feed wild animals: It's better to let the fish, lizards, turtles, birds, or crocs find their own food so they don't rely on humans for survival.
Respect the culture: Many of the cenotes are owned by local Mayas. Remember these are places of spiritual significance. Let's help preserve the cenotes and their meaning.
Don't buy single-use plastic & book with ethical hotels: Our waste, and the unethical "eco-hotels" on the Tulum beach zone, pollute the local environment more than we can know. If you plan a trip to Tulum, I would recommend you watch The Dark Side of Tulum documentary.
Read my ultimate guide to Tulum to learn more about your impact traveling to this town.
Book Your Trip to Tulum, Mexico
Ready to dive into a few of the cenotes in and around Tulum?
Here are my travel resources to book your trip! If you have any questions about the cenotes in Tulum (or in Mexico), feel free to reach out!
Hotels & Accommodation: Booking.com is our go-to platform for finding hotel deals around the world. They particularly have great finds for the Riviera Maya and Tulum. If you become a Genius Member like us, you'll benefit from free breakfast, special discounts, and a few other perks.
Local Stays & Experiences: For hidden gems, unique experiences, or stays with locals, we use Airbnb. There are some pretty rad places worth checking out.
Rental Cars: We use Discover Cars, a car rental comparison tool, to find the best deals across the most popular agencies. Mexico typically has super cheap deals on car rentals, sometimes as low as $11/day!
Flights: Google Flights, Skyscanner, and KAYAK are where I start my search to find the best flight deals. Tulum doesn't have its own airport, so you'll fly into Cancun Int'l Airport.
Ready to explore more of Mexico? Having lived in Mexico for going on three years now, I've been able to put together quite a few travel guides and itineraries! Start with my Ultimate Mexico Travel Guide or feel free to check out the articles below:
Make sure you protect your trip! SafetyWing is the digital nomad insurance I've been using since I began living and traveling around Mexico.
LIKE IT? PIN IT!
Images credit: Bucketlist Bri, Canva, Getty Images, CocoBeachExperience.com (Zacil-Ha), Bluelife.com (Carwash), Chaaktun.mx.com (Chaak Tun), Destimap.com (Choo-Ha), and my sister (Tankach-Ha + Calavera).